Clan Wolf
---
Clan Wolf is named after the Strana Mechty wolf, which grew to nearly twice the size of the Terran wolf. The Kerenskys considered these animals to be the epitome of the warrior spirit.
---
Welcome to the Clan Wolf Council Hall, formerly known as the Clan Wolf Home Page. This site was the first Clan Wolf on the Web but since the release of the Mechwarrior II series games by Activision there has been an explosion in the number of sites, not all dealing with the BattleTech RPG. This site is a resource for the players of the BattleTech RPG for both factions of Clan Wolf. This site contains an extensive amount of information regarding various aspects of this great Clan.
Clan Wolf is regarded by most as the premiere Clan. Clan Wolf was by far the most militarily successful during the invasion of the Inner Sphere. Not only that, but Wolf was the chosen Clan of the great Nicholas Kerensky. Analyses of this Clan's strengths and weaknesses, both in their leadership and military can be found here as well as their history, from their founding to the recent Trial of Refusal with the Jade Falcons.
You can also find resources relating to general Clan organization and everyday life within the Clans. Currently a guide to Clan terminaology and a guide to their basic military organization is avalable.
---
Fear the loping wolves
They hunt with cold confidence
Deer should flee in haste
- Japanese haiku graffiti, Rasalhague University

What's it like fighting the Wolf?
Imagine lightning on legs,or an earthquake with arms,
or catastrophe with genius, or just pure hell on wheels.
- An Inner Sphere militia soldier
---
---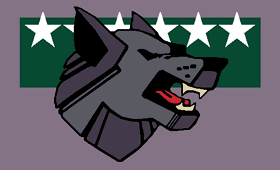 Project Vanguard
My own Clan units, the Vanguard SuperCluster, and the Vanguard Naval Group comprise Project Vanguard. Project Vanguard was a special tactics and training research project begun during the invasion of the Inner Sphere within Clan Wolf. For further information regarding Project Vanguard, the Vanguard SuperCluster, or the Vanguard Naval Group, please refer to the page below.

Project Vanguard
Home Page
---